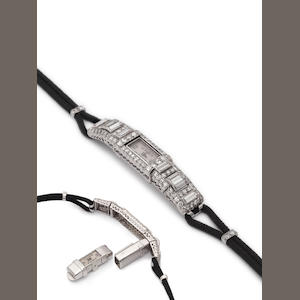 At Bonhams today, sometime this afternoon, Lot 324 will come under the hammer. Most of you may have left the building by then, as you'll probably be largely following the sale of the excellent collection of 60's, 70's and very early 80s Heuers from the Haslinger Collection. However, if you do stick around, you might see something rather special.
Lot 324 is described as "Swiss. A fine and very rare platinum and diamond set wristwatch with an early form of sealed case design 1920's." It boasts a jewelled lever movement with cut and compensated balance, silvered dial with Arabic numerals and blued steel hands and a platinum hinged case. The movement slides out from within the filigree platinum case to reveal a very slim rectangular winder (just visible in the photo). Incredibly, the entire watch (including the diamond-covered*, articulated case) is no wider than 10mm. Just think about that for a moment. The movement inside is approximately 8 mm across. Astounding!
Now, the reason that this particular watch is very unusual and of such interest to me (apart from the micro-mechanical movement), is that it features a very early form of waterproofing**. In many respects, it is similar to the Omega Marine case design which was patented as No.146.310 on March 10, 1930***, a few years after the Rolex "Oyster" case and screw-down crown was patented (1927). The movement is kept dry by being cased twice - once in the movement case, and then again in the actual watch case.
The "Marine" cases were designed to keep marine clocks, and indeed certain wristwatches, dry and were apparently designed for use by the Navy and, some have argued, could be described as the world's first "dive watches". In 1936 and 1937, a series of dives took similarly-cased watches to between 70m and 135m. The famous French naval diver and inventor Yves le Prieur (1885 to 1963), who invented a hand-controlled self-contained underwater breathing apparatus back in 1926, is said to have owned one of these Marine Case watches. That this watch is dated closer to 1926 than 1937 makes it very interesting indeed. Is this a pre-Patent model?
So, what we have here is, technically, one of the first ladies' "dive watches" ever to be made. Or perhaps not. But whatever it is, I hope its next owner wears it in very, very good health.
the #watchnerd


*The diamonds are wonderfully set in platinum, with large 10mm baguettes running horizontally across the articulated case. It's a beautiful piece of jewellery in its own right, which may go some way to explaining the £8,000 - £10,000 estimate...!
**
The early history of waterproof watches is fascinating, and while Peret and Perregaux's (later, Hans Wilsdorf's) design for the screw-down crown was the "missing link" between the Rolex Watch Company's Submarine and the Rolex Oyster case, it's probably not one that had a massive bearing on the design of another of my favourite dive watches, the Russian Zlatoust 191yc. The latter appears to have more in common with the Submarine (or perhaps the Omega Marine) than the Oyster, relying (as it does) on a large, robust, steel and glass coffin to surround the movement. Even the crown is similarly shrouded (no matter how may Zlatoust watches I see, I'm remain amazed at how flimsy their stems / winders are). The Marine suffered from the same (or at least similar) failings as the Submarine / Marine - you had to remove the watch from the shroud to set / wind the mechanism. Arguably, Harwood came up with a better design in 1923/4 and could (perhaps) be afforded a similar honour. I'm not sure what contact there was between Harwood and Wilsdorf, but one assumes the latter was aware of the former's '24 patent - although, given the later *disagreement* between them which resulted finally in a full Rolex apology, I doubt Wilsdorf would have readily admitted any knowledge. For me, it's a fine example of design evolution and the effect of geography; the Zlatoust, being geographically, politically and ideologically separate from Switzerland appears to have continued down a evolutionary cul-de-sac. While it might be a dead end, I find it no less interesting.